Regular price
Sale price
$22.00 USD
Unit price
per
Sale
Sold out
"MAGICKED"
Ancient Egyptians valued beauty whereby they saw cosmetics as a sacred enhancement to their beauty while holding a medicinal value. The eyes held the utmost importance which they protected by wearing eyeliner, but most upper-class also wore lipstick. Queen Cleopatra was particularly known for her red lips which she perfected the red color using insects and fish scales. All social classes utilized cosmetics but the quality of their bottles and products varied depending on their class and wealth. Did I mention Ancient Egyptians believed in the healing and protective properties of cosmetics?
Our lipstick line "Magicked" was born embodying the reminder for self-love and healing. Here we have rich colored matted lipglosses created to enchant your natural beauty. Healing doesn't have to feel ugly or hard. When you take care of yourself well, that is your establishing a good relationship with yourself which is an essential part of your self-love and healing journey. What better way to take care of your body other than adding a little color to your day? Not to mention, the luxurious design of the wand is surely going to make you feel like royalty!
So far, I have created 6 different colors to match your mood. The texture is light, creamy yet hydrating. All day wear---no problem!
"Dreams"
"Soil"
"Roses"
"Fire"
"Seduction"
"Sunset"
Share
View full details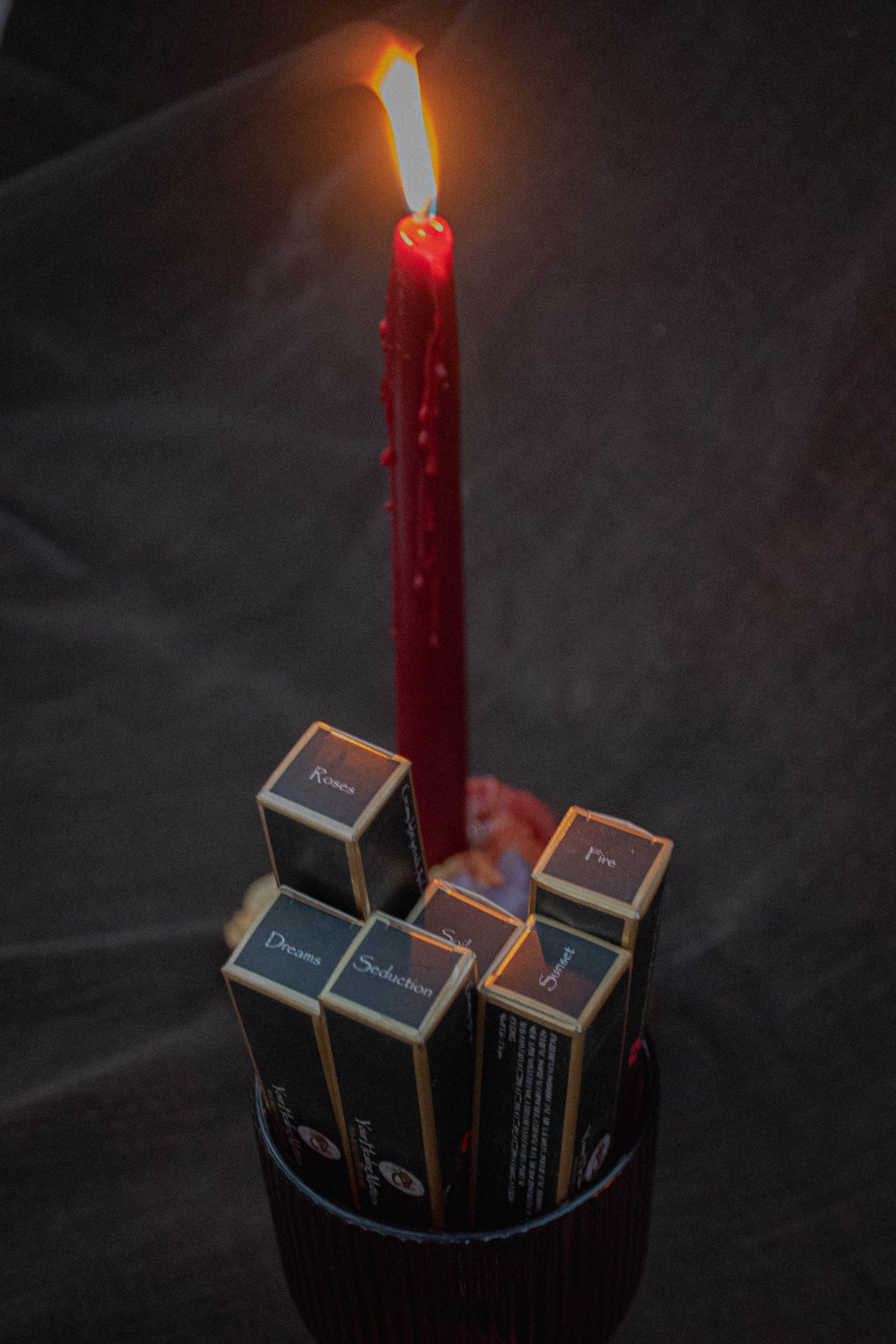 In love
I am so in love with this gloss! It is so pigmented and long lasting, perfect for a night out when you don't want to keep reapplying. I ordered the color seduction and it is the most gorgeous deep red 💋
Fire 🔥
I ordered fire and it made me feel beautiful and sexy like I was on fire lol it smells yummy and goes on smooth, it lasts pretty much all day. Definitely going to order the rest, I love it!!
Beautiful lipstick
I bought the color soil, the container itself is so cute! It's so fun and smells delightful. The color is beautiful, the texture is nice and it totally lasts nicely throughout the day.
Confidence boost
I love this so much!!! I don't have to reapply and this product ACTUALLY LASTS!! I don't want anyone to think "oh this is just lipstick"… everything about this brand just enhances beauty but it feels like an internal shift for me as well! Please just do yourself a solid and get a lipstick!! It's such a beautiful creamy color and rich! I love it!!!!
I'm shocked how well this Lipgloss 💄 lasts and it's only $22!!
I been following Vicky for a while and when I saw her video introducing this new product, I fell in love with the color (Fire) immediately. It's been 6 days and I've only used it once a day! It's not super Chunky either! I don't get chucks fall off so I'm extremely happy with my purchase. Buying more soon! 🥹🙌🏽🤎